MKL's '98 1200C – Lighting System Upgrades
TPP Web Team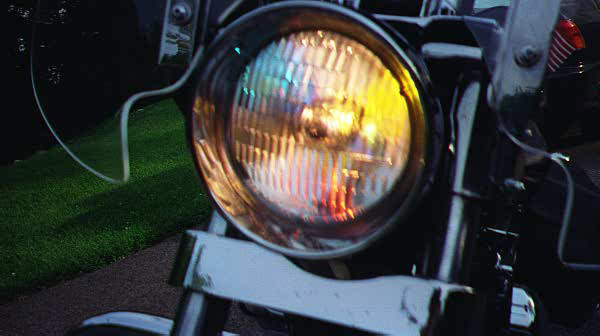 Kuryakyn Rainbow Strobe as seen at dusk – 7/99
Seeing and Being Seen: Upgrading the lighting system on the the scoot is a simple and affordable means of enhancing safety. For those interested, I have a few relatively basic suggestions:
Upgrade the stock 55/60 watt H-4 headlight bulb: One easy way to increase your visibility and field of vision at night is to install a higher wattage H-4 headlight bulb. I used an 85/100W bulb for years, until I installed a fog lamp kit (see below) and had to scale back the wattage of the headlight bulb to avoid overtaxing my electrical system. The difference in lighting power from 85/100W vs. stock (55/60W) is dramatic, though not enough to blind cagers. One word of advice: Beware of putting very high wattage bulbs in non-Custom XLs – listers have posted warnings about putting these bulbs (which run hot) into anything but the "Custom" Sportster (or bike with similar headlight housing), as other XLs have a different headlight setup which puts the headlight housing very near critical wires and plastics, which may melt in turn. There are also 55/100W bulbs and 60/85W bulbs available everywhere, in case your bike can't handle the heat of the 85/100W. You can buy H4 bulbs everywhere for about $13 – do not get suckered into paying $40 for a headlight bulb at the local Harley boutique.
Upgrade the stock 1157 turn signal and tailight bulbs: The stock 1157 bulbs can be replaced with 2357 bulbs, available at any auto parts store. The 2357s put out approximately 20% more  candlepower compared to the stock 1157 bulbs on the high filament, and really stand out at night when you hit the turn signal. Again, you can buy these bulbs everywhere, and packs of two usually run less than $2 – do not get suckered into paying $5 for a turn signal and tail bulbs at the local Harley boutique.
Convert the rear turn signals to running lights or auxiliary brake lights: You can triple your visibility from the rear by wiring your turn signals to operate as either full-time running lights or auxiliary brake lights. My signals are set up as running lights. Articles on how to do this simple wiring procedure have been printed in all the major magazines, and most shops charge only an hour or so to do the deed. On newer Sportsters ('02+) Harley offers a "plug in" module to convert your rear turn signals to auxiliary brake lights, eliminating the need for any cutting and splicing.
Install Kuryakyn's "Rainbow Strobe," as shown above: KA's "Rainbow Strobe" (p/n 2141) is basically a six-sided cage which fits over your standard H-4 Bulb. Three of the sides are colored glass (red, blue, and yellow) and the other three sides are clear and free from material. The 'Strobe gives your light a "rainbow" effect that alerts oncoming traffic to your presence without blinding them. Also, it does not excessively distort the beam from the driver's perspective, so your vision isn't really compromised (as opposed to those annoying quasi-xenon "blue" bulbs, which put out approximately 50% of the useful light of a comparably powered conventional bulb). Installation is a snap (it just slips over bulb and fits perfectly with no mods). Cagers definitely seem to take more notice than before, and reducing the dreaded cut-offs. IMO, the light looks great from afar too. Draws attention for sure! Well worth the $25 it cost, especially considering other manufacturers are selling entire "rainbow headlight" setups for $100! This 'Strobe does the same thing for a fraction of the price.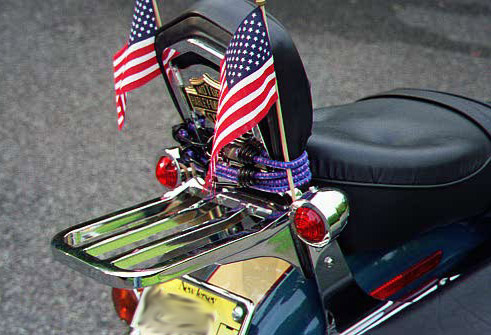 Bullet Brake Lights mounted on the Sissy Sideplates – Memorial Day 1999
Additional Auxiliary Brake Lights: Another way to enhance your visibility at night is to install additional auxiliary brake lights. The  "Bullet Lights" I chose are as shown, but choices are endless (including LEDs) and vary greatly in cost. If you do a lot of night riding, additional visibility could save your life! Downside: They don't look particularly sleek, and if you have detachable backrest or a solo setup, they will not be as easy to mount in a conspicuous location. Other angles are seen below…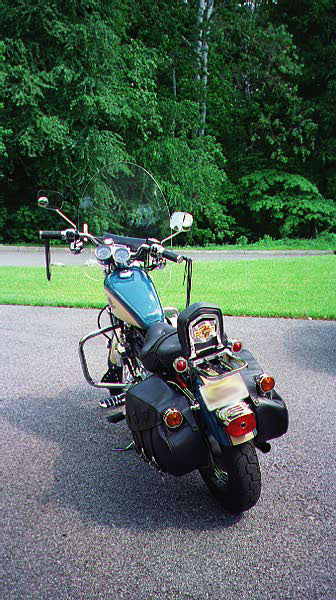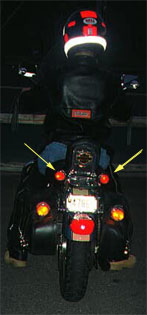 Night Rear View, Brakes Applied – 3/00
Kisan Technologies Pathblazer P115W-S90 Headlight Modulator: This product is a fantastic new addition to the bike. Basically, it's a plug-and-play type modulator, so no cutting or splicing of wires is required. A daylight sensor, which mounts external to the headlight shell, serves to stop modulation whenever darkness is detected (entering a tunnel, night riding, etc.). As such, unlike older design modulators, you do not have to permanently give up either your low or high beam for this device to work. On its factory setting, high beam position activates the modulator when daylight is detected. Low beam stays as usual.
Although the installation instructions say it is possible to run the sensor out of the existing wiring harness, I found this to be impossible. The second route is to mount it on the top of the headlight shell as shown below. This involves drilling the headlight shell to make a 25/64″ hole – DO NOT substitute drill bit sizes! Start out with a small bit and work your way up to 25/64″. At the end, it looks factory nice and neat. Aside from drilling this hole, installation involves plugging the existing bulb and connector into the modulator – simple stuff.

Pathblazer Modulator from the Kisan Technologies Website – 4/01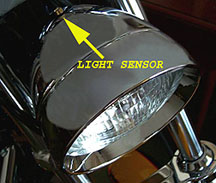 Incandescent Light Sensor Properly Mounted (courtesy Bill Auffarth)
The modulator seems to have reduced the "left turn cutoff factor" significantly. Interestingly, seasoned citizens (who generally crawl along at 10 mph below the speed limit) often mistake the flashing headlight of the bike for police, and pull over obediently whenever I am behind them. Definitely an unexpected benefit! The headlight sensor works very well, as advertised. Going into tunnels or sudden darkness deactivates the modulator instantly, every time. Legality was another initial concern, but Kisan provides a reprinted copy of the DOT / NHTSA Federal Motor Vehicle Standard 49 CFR Part 571, Executive Order #12866 on a small flourescent card. This card came in the package, and says in so many legalese words that the modulator is perfectly legal and DOT approved. Nice to have, just in case. The modulator is a winner – highly recommended.
H-D Engine Guard Mounted Chrome Fog Light Kit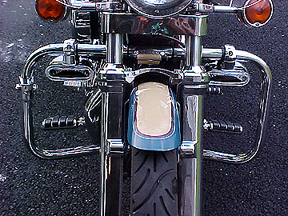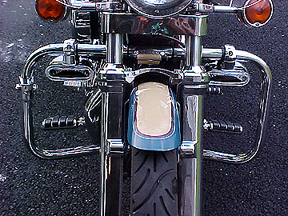 H-D's Chrome Foglamps Installed – 7/02
These lamps do make a big difference during dark riding conditions, and are easy to install. The only mod I made was to have the wiring harness modified, so I could operate the fogs in conjunction with either the low or high beam (stock harness cuts the fogs off automatically when high beam is switched on). Also, in order to avoid overtaxing my charging system with the fogs on (each fog is 55W), I swapped out my 85/100W headlight bulb for a stock 55/60W model.
Kisan Technologies Tailblazer 10W-D Brake Light Modulator: Those who have taken MSF classes know that to increase your visibility while braking in traffic, it is recommended that you "pump" your brakes a few times while slowing down, to cause the brake light to flash on and off. For years, external modulators have been sold to do this automatically once the brakes are applied, but these modules required both space and electrical wiring to install. However, like the Kisan Pathbalzer headlight modulator tested above, this new Tailblazer modulating device for the brake lamp is a self-contained plug-and-play unit, requiring no extra space to mount and no wiring at all. To install, you simply take the old 1157-type tail bulb out, and plug the new Tailblazer in. All the electronics are contained within the 10W-D Tailblazer's dual-contact base.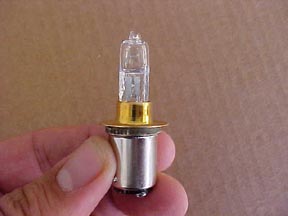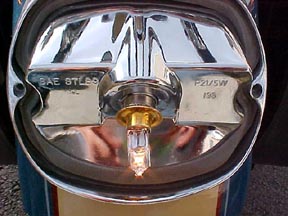 Kisan's Tailblazer Modulator Fits Right in the Stock Tail Bulb's Location (2/03)
Once the Tailblazer is installed and the brakes are applied, the electronics serve to pulsate the brake light for about 4 seconds before glowing solid – This was very noticeable standing behind the bike – a definite attention grabber! It should be noted that the Tailblazer does not operate unless the engine is running. If the ignition switch is on but the engine isn't running, the tail light stays on but does not pulsate or glow if the brakes are applied.
The stock 10W-D Tailblazer recommended for Sportster applications comes with a 10 watt "G4" Halogen bulb. According to Kisan, a brighter bulb could be used, but care should be taken when putting a hot halogen bulb near the plastic tail lens. In the Sportster's case, the lens is pretty far away from the bulb, so I felt safe experimenting with a brighter bulb. I found a selection of Halogen "G4" bulbs at the local hardware store, and got the highest wattage one sold (20 watt) for just under $5. The 20W halogen bulb is significantly brighter than the stock 10 watt "G4," and also much brighter than the old 2357 bulb I was using. Although it does run hot, after a test period of about 5 hours with the bright 20 watt "G4" bulb, the lens showed no signs of melting. Thus, because of the stock Sportster's tail bulb housing design, I recommend upgrading to the higher wattage "G4" bulb if you use this device. Overall, I think this Tailblazer is a great product that serves a useful purpose in getting the attention of often distracted drivers behind you. Highly recommended!