MKL's '98 1200C – Sigma Sport BC1200 Trip Computer
TPP Web Team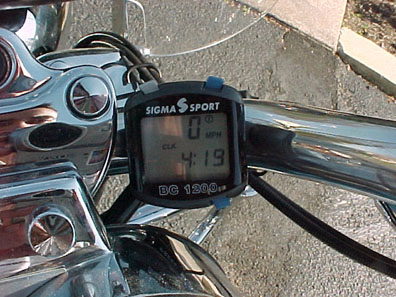 The Sigma BC1200 Trip Computer (Mounted) – 5/00
The gadget freak in me couldn't resist putting a trip computer on the scoot. The Sigma Sport BC1200 (about $35 at the local bicycle shop) lets you know the following information at a glance:
Accurate Speedometer (up to 150 mph)
Trip Odometer (2 separate logs)
Clock
Riding Time Stopwatch (automatically starts as the wheel turns)
Maximum Speed
Average Speed (The computer lets you know if you're above or below average at all times)
Total Riding Time Log
Installation was a snap – see below for a visual. The only tricky part was that the magnet and magnet sensor must be no more than 5mm apart for the computer to be able to work. The solution I found was to mount the sensor on the left side (driver's perspective) front fender mount facing the wheel rim. I used a dab of silicone on the underside of the sensor and four black tie-wraps to secure it. From there, I used three miniature (but super strong) Radio Shack "Rare Earth" Magnets (about $1.50 per pair,) which I placed on the rim with a dab of RTV Silicone. These magnets are each approximately half the diameter of my 21″ rim's outer edge in size, and roughly 1mm in overall height. [NOTE: The computer comes with its own magnet, which is not easily installed on a motorcycle-type application. This, and the aesthetic factor, is why I used the Rare Earth magnets]. The setup works like a charm, and due to the hidden installation, you can barely notice any of the peripherals associated with the computer. The computer itself, designed for mountain bikers, is rugged and waterproof. Overall, it's a worthwhile investment if you want to know the minute details of your riding habits.